Restaurants & Cafes
Enjoy an amazing array of flavors and a wide selection of restaurants to suit every mood. Our menus are inspired by, and sourced from, the incredible regions we visit.
Featured Restaurant
Tuscan Grille: Celebrity's popular Italian ristorante and enoteca. A celebration of big, bold flavors.
Sushi On Five: Our modern luxury take on traditional Japanese fare.
Oceanview Café: Like an international marketplace, the cuisine takes you on a voyage around the world.
Blu: Intimately elegant, yet fresh and modern.
Qsine: A one-of-a-kind restaurant featuring a uniquely unordinary approach to dining.
Main Restaurant: A remarkably satisfying place for dining.
AquaSpa Café: Celebrity was one of the first cruise lines to offer a spa restaurant. We saw an opportunity to create an extension of our industry's leading spa experience by introducing the AquaSpa Café.
Luminae: The private restaurant for Suite Class.
Mast Grill: Let your cravings go wild. Grab a great burger in a relaxed, poolside environment.
Room Service: 24-Hour In-Room Dining: Relax and dine in the private comfort of your stateroom.
Specialty Dining Packages available!
Available-- Want a carefree way to sail with Celebrity? Pay just one price to enjoy a wide variety of beverage choices such as premium coffees, bottled water, wines-by-the-glass, beers, or your favorite cocktails. Your package can be used in the Main Restaurant, specialty restaurants, casual dining restaurants, and all bars and lounges.
Clubs, Bars & Lounges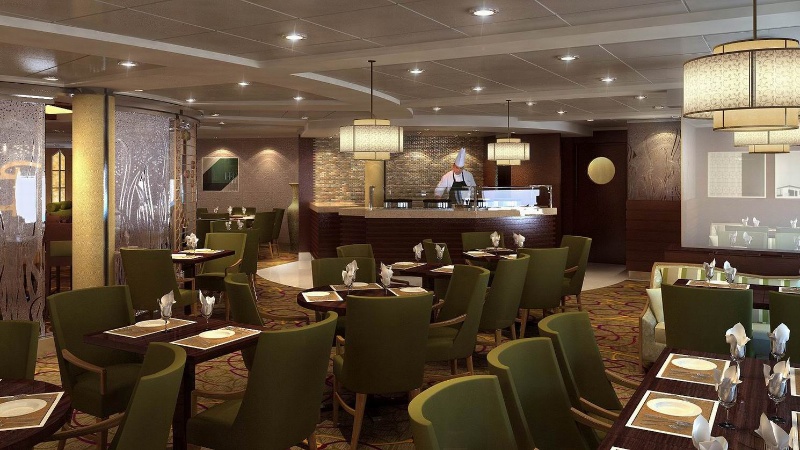 Each of our clubs, bars and lounges is a unique destination unto itself, with menus offering a diverse selection of classics to complement the latest trends. Some also reflect the regions we visit. To keep our menus dynamic and fresh, we work with a variety of sources including mixologists from the brands we serve and our creative, passionate team of beverage specialists at each bar.

Martini Bar & Crush: Classic and contemporary martinis served up on an ice-topped bar.

Sky Observation Lounge: Quiet refuge by day, lively music venue by night.

Café al Bacio & Gelateria: Inspired by the ambiance of European cafés, muted sepia tones and pops of citrus yellow bring this space to life

Sunset Bar: Country club atmosphere with spectacular ocean views.

Rendezvous Lounge: The perfect place to start your evening.

Cellar Masters: Large selection of international wines, hand-picked by Celebrity sommeliers.

Pool & Mast Bar: Let your cravings go wild, poolside.

Featured Bar:

Martini Bar and Crush: Classic and contemporary martinis served up on an ice-topped bar.

Things to do

Make the most of your vacation time and continue your health, fitness and wellness routine while on board. You're invited to indulge your mind, body and spirit in the state-of-the-art fitness facilities with soaring floor-to-ceiling windows. Experience the profound pleasures of the spectacular spa setting with luxurious services and enlightening presentations designed to restore your serenity and leave you feeling fantastic.

Canyon Ranch SpaClub: Discover a legendary spa experience on Celebrity Cruises

Since the first Canyon Ranch wellness resort was created in 1979, the Canyon Ranch experience has been focused on pursuing optimal health, learning how to feel your best every day. Encouraging people to become more active, informed participants in their health care, because wellness is largely based on everyday lifestyle choices about nutrition, stress management, preventative care and staying fit. You can find a place where you can relax, reduce stress and have a great time.

Casino


Make the most of your vacation time and continue your land-based health, fitness and wellness routines.

Fitness Centers:
Indulge your mind, body and spirit with state-of-the-art fitness facilities.

Bring your workout routine along for your modern luxury cruise. Reflection's fitness facilities feature a jogging track, sport court, and a full suite of state-of-the-art cardio, core, and weight training equipment for every fitness level. Get shipshape and enjoy beautiful ocean panoramas through the fitness center's floor-to-ceiling windows. Equipment includes treadmills, rowing machines, stair climbers, recumbent bikes, elliptical, cross trainers, and free weights. Join one of many daily group fitness classes, or have a personal consultation with a wellness professional on exercise, diet and lifestyle. After your session, relax and rejuvenate in the sauna or Solarium pool.

Services

Guests can enjoy healthy, clean cuisine in an intimate, upscale atmosphere. Experience the profound pleasures of the spectacular spa, with body rituals, scrubs and massages, rejuvenating and antiaging facials, enlighten seminars and exercise classes that are designed to leave you feeling fantastic.

The Persian Garden: For Thousands of years, people have found that moving water and temperature variations provide relief for muscle and joint issues, speed toxins from the body and promote deep relaxation. The Persian Garden pass includes use of the aquatherapy environments, from aromatic steam to tropical rain showers for a rejuvenating experience.

Programs

Benefits of Acupuncture Seminar

Eat This, Not That! Drink This, Not That!

Restore Your Youthful Skin Seminar

Acupuncture

Chiropractic session (only on Solstice® Class)

Gait Analysis

Body Sculpt Boot Camp

Yoga Classes